OCTOBER MEETING RECAP:
Sorry that this recap is a few days late... but, if you were there, you already got the scoop! And if you weren't there... no amount of words or pictures is going to do it justice...
One word = AWESOME!!!
Advance word was that this was going to be one of the premiere Club meetings of the year - and it didn't disappoint

Meeting started about 7:15, by the time the crowd all got settled into there seats. Most of the WMAS Presidency was busy meeting & greeting and getting all the new Paid Members signed up (!)
This month we ran a special promotion... join and get the rest of 2017 and ALL of 2018 as a Paid member for the usual single-year price... AND you got yourself an additional 5 FREE Raffle Tickets for the big raffle!
Pretty sweet deal... and we signed up at least 11 brand new Paid Members!
--------------------------------------------------------------------------------------------------------
As I noted before,
most
of the Presidency was busy doing something useful...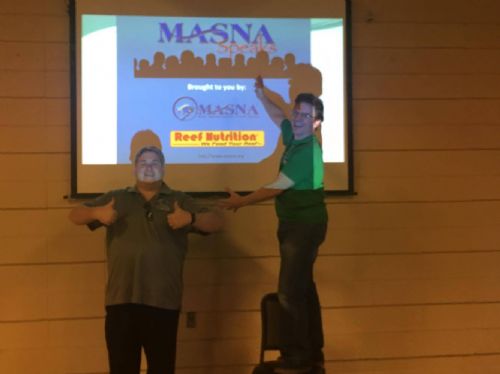 Jon, Jeff & Dave started things off with a warm welcome - and updates on recent Club
activities like our Frag Grow - Out Contest results

They also gave a shout all to all the sponsors who helped bring Melev out to Utah
and / or donated prizes for the Raffle...
Spent a little time talking about the upcoming Reef Tour on November 4th
DON'T MISS IT!!!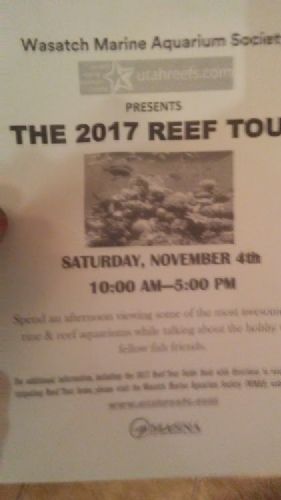 Then it was time for Marc to do his thing!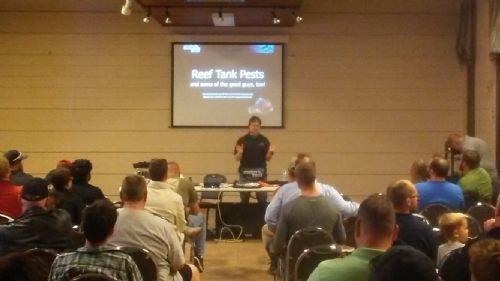 A truly AWESOME presentation; full of facts, fun, personal stories covering Marc's over 20 years
of "Melev's Reef"... there was something to learn for every member of the audience!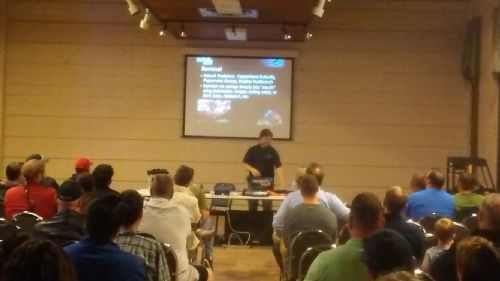 "Good" pests, "Bad" pests... how to truly and effectively get rid of the ones you don't want
The audience was glued to their seats! (Except when we had to trot over to the refreshment table!)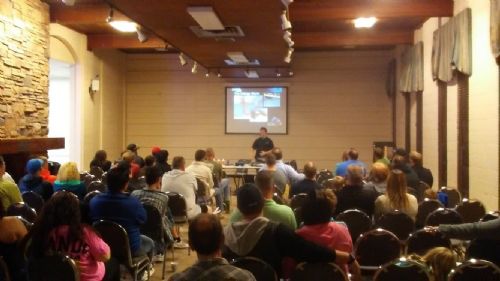 Dozens (maybe a hundred?) of slides, topics and sub-topics... Marc laid it all out in plain
English, so that even the newbies to the hobby could understand and learn
Then it was Halftime... or should I say, CORAL TIME!!!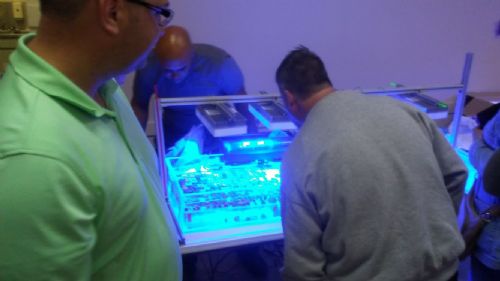 Both Dave (from Reef Kingdom) and Skyler (Reef Legends) really brought the heat!!!
When we advertised HUNDREDS of frags to choose from... WE WEREN'T KIDDING!!!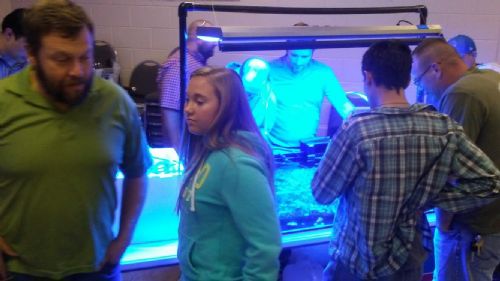 Our Members and Guests got to cherry - pick their choices at special Club Meeting prices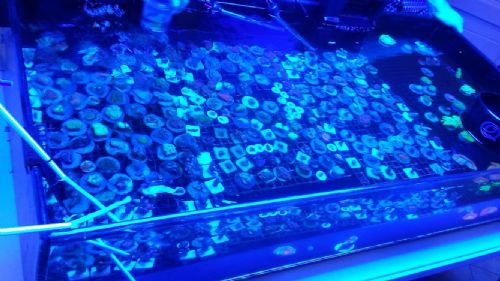 Did I mention we had TWO Coral Vendors and literally HUNDREDS OF FRAGS FOR SALE???!!!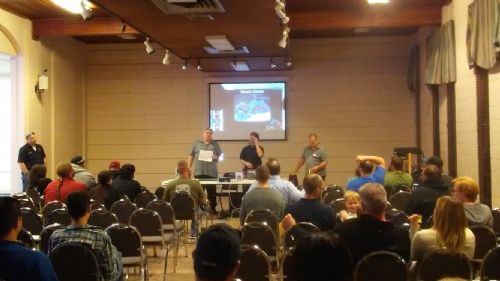 Prior to the second half of Marc's presentation, we held the Raffle (!!!)
Must have gave away 25 prizes in all! T-Shirts, Gift Cards, Coral Dips, BENEREEF Coral Food, a bunch of MACNA swag...
And then the
GRAND PRIZE
= 2 Full Paid 3 -Day Passes for MACNA 2018 in Las Vegas!



And here is the lucky winner! She and her Dad ('Achilles Tang' on the Forum) are going to MACNA!!!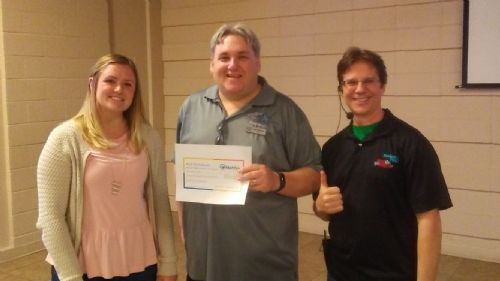 After all that excitement, it was time to once again yield the floor to Marc.
He still had a TON of info to go over!
Marc had so much to share that we actually ended up going over the usual 8:30 PM end time by
almost an hour!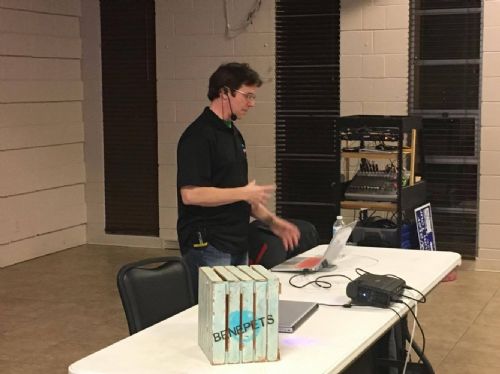 Wrapping up, Marc and WMAS President Jon Dinchak thanked the crowd and reminded everyone
that next month we have FRAGSTOCK!!!
After the meeting, a bunch of Club Members went over to the Dodo Restaurant in Sugarhouse and
had a great dinner with the one & only Marc Levenson!
How's THAT for an awesome end to an awesome meeting???!!!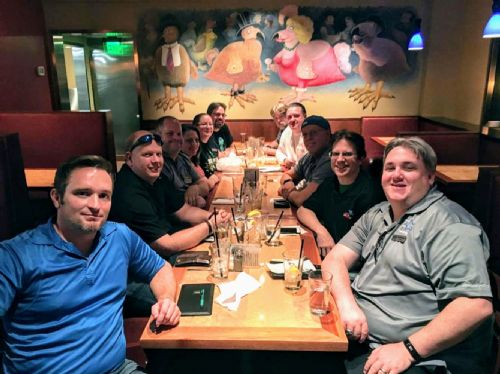 If you missed it..?







Well, next month (November 2nd) is the return of FRAGSTOCK - so make sure you make it out!!!



-------------
- My Current Tank: 150g Mixed Reef -

* Marine & Reef tanks since 1977 *